Posts Tagged 'portable PA'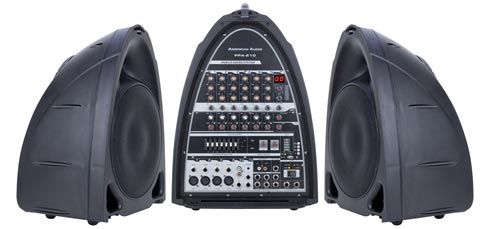 Its the New Year and I hope that all of you had a blast. I know I certainly did! In any case, in my never-ending quest for information to post on this blog, which already has quite a following from what I have been told, I came across this portable PA system, this time made by the folks at American Audio. It looks a bit like the Phonic offering and the same snap-into-one concept of the Fender Passport series. It looks pretty good and on their website, it shows the specs which are as follows:
• Portable Sound System including: 2x 10-inch portable speakers, 1x Powered Mixer, 1x Dynamic Microphone & all component cables needed
• Entire system latches together for maximum protection for easy transport; even the microphone fits in a built-in compartment
• 8-Channel powered mixer
• 3-band EQ, EFX Sound, Pan and Level on each channel
• Built-in 300W (150W 8 ohms per channel) stereo power amplifier with dynamic Distortion Processor
• 4x XLR MIC inputs.
• 2x TRS stereo Channels with RCA 3.5mm Stereo inputs.
• USB port to connect a flash disc containing music or a MP3 Player
• Effects send on every channel with stereo return
• Internal digital delay effects processor with 16 selections with foot switch jack: including echo, delay and vocal enhancement
• Effects parameter adjustment allows you to customize each effect selection
• 7-band system equalizer with switch
• 2x five-segment LED meters
• Performance Indicators: Signal, Clip, Power & Protect
• Built-in 300W (150W 8 ohms per channel) stereo power amplifier with dynamic Distortion Processor
• Thermal cut off
• Speaker system with I-inch compression drivers and 10-inch woofers
• Storege compartment for microphone, cables and accessories.
• Two 20-foot speaker cables
• Switchable voltage: 115V/60Hz or 230V/50Hz – IEC plug
SPECIFICATIONS:
• Frequency Response: 20 Hz to 20 kHz 1dB (at send output);
30 Hz to 20 kHz 1dB (at speaker output, with processor threshold exceeded)
• Distortion: <0.05%, 20 Hz to 20 kHz, 1 dB below rated output
• System Signal-to-Noise Ratio: >80dB @ 1w. "A" WTD
• Power Output 150W per ch. continuous average power: 8 ohm, both channels driven with THD <1%
• Input Impedance (Channels 1-2-3 and 4) "Mic" 2k ohm
Not too bad actually but it is only about 150 watts per channel. I do not know how much it costs here in Singapore but PSSL.com are offerng it for about US$500. Not too shabby but I am pretty sure that you can get better systems for that money.